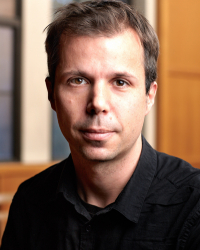 Sabato 28 maggio ore 21
Fellows' Annual Concert
Accademia Americana
Sala Aurelia of the Villa Aurelia, Largo di Porta San Pancrazio 1, Roma
HUCK HODGE
Out of a Dark Sea
per ensemble e computer playback
FREON ENSEMBLE
Morena Mestieri, flauto; Paolo Montin, clarinetto; Mauro Di Francesco, corno; Rodolfo Rossi, percussione; Nazarena Recchia, arpa; Maurizio Paciariello, pianoforte; Francesco Peverini, violino; Luca Peverini, violoncello
Stefano Cardi, direttore
___
Program note
Once, in early January, I decided I needed to escape from the city for a while so I went out to the easternmost point of Long Island.
I ended up on an abandoned stretch of beach, and by this time it had already grown dark, but I nevertheless decided to go for a walk. Since there wasn't any light on the beach my eyes quickly picked up on something interesting. With each wave came little grains of sand that shined an intense blue light for a short time and then would die out (I've since learned that this might have something to do with dried-up jellyfish).
The raw visual beauty of this image – of a vast and utterly dark sea endlessly dissolving into scattered points of light – was striking and seemed to suggest an interesting musical metaphor.
Throughout this piece a variety of wave-like and pointillistic musical structures interact in antithesis and synthesis with each other as do dark and bright instrumental and electronic timbres. The piece also explores this metaphor through what Nietzsche might call a principle of individuation by means of a process of musical rarefaction spanning the spectrum noise-timbre-pitch-motive-theme.
Commissioned by the Stony Brook Contemporary Chamber Players for the annual world premieres series.
BIO
Huck Hodge writes music that is influenced by the fields of Psychoacoustics and Cognition, eastern and western philosophical inquiry and music of the early Renaissance. He is the winner of the Rome Prize, the Gaudeamus Prize, the Aaron Copland award from the Bogliasco Foundation and several other awards, honors and commissions from organizations such as the American Composers Forum, the American Liszt Society, ASCAP, CBDNA, Muziek Centrum Nederland and Musik der Jahrhunderte.
Praised by the New York Times for his "harmonically fresh work with variegated textures full of both sparkle and thunder", Hodge has had performances at Carnegie Hall and Lincoln Center and his music has been broadcast on Dutch National Radio, Concertzender Radio, the Australian Broadcasting Corporation and WKCR New York. His compositions are regularly performed throughout the world at such festivals as Nuova Consonanza, the ISCM World New Music Festival, the Gaudeamus Muziekweek, the Laboratoire Instrumental Europeén, June in Buffalo, Acanthes, the Daegu International Contemporary Music Festival (South Korea), Berliner Festspiele|MaerzMusik and the Wellesley Composers Conference. He has been awarded residencies at the Liguria Center for the Arts and Humanities in Italy, the Camargo Foundation in France and the MacDowell Colony. His work has been supported with funding from the Andrew W. Mellon Foundation and the Deutscher Akademischer Austauschdienst (DAAD).
Some of his notable collaborations include those with members of Ensemble Modern and the Berlin Philharmonic, the ASKO Ensemble, l'Ensemble Aleph, Ensemble SurPlus, the Scharoun Ensemble, the Afiara String Quartet, the NYU New Music and Dance Ensemble, Majella Stockhausen and video artist Karen Yasinsky. Upcoming engagements include new works for the JACK Quartet and the Talea Ensemble.
Hodge received his MA and DMA from Columbia University where his principal teachers were Tristan Murail and Fred Lerdahl. Prior to this, he studied Music Theory and Computer Music at the Musikhochschule Stuttgart, where his teachers included Georg Wötzer and Marco Stroppa. He is currently Assistant Professor in Composition at the University of Washington.
http://music.columbia.edu/~hodge/News_Bio.html